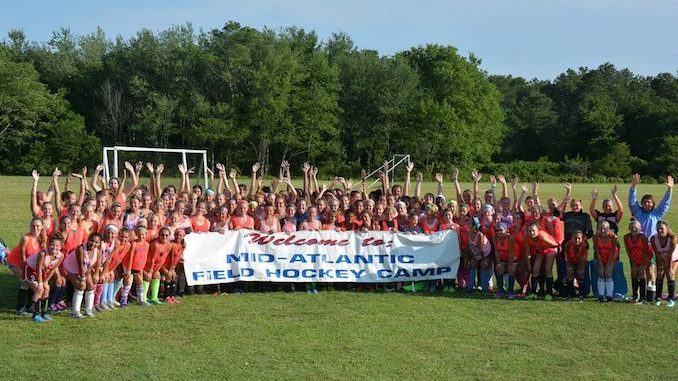 2016 is the Mid-Atlantic Field Hockey Camp's 39th year at Cape Henlopen State Park. Several of our more experienced staff have been here every year. The success of the camp is due to the dedication and consistency of staff, and the unique area of Cape Henlopen State Park in Lewes, DE.
Hockey Skill Development Includes:
Individual Possession Skills
Passing and Receiving
Passing and Receiving Tactics
Individual Defense
Team Defense
Small Game Situations
Offense and Defense Situations
Half Field Transition Play
Corners
Penalty Stroke
Goalie Development
Goalies do the same 3 sessions as campers and have their own coaches to learn the fundamentals of goal keeping. Improve your goalie skills such as:
Being Equipped Correctly
Warming up & Stretching
Stopping & Clearing Techniques
Working on Angles
Defending Penalty Strokes
Games and tournament play.
Camp Accommodations
Our field hockey camp is located at Cape Henlopen State Park with more than 5000 acres on the Atlantic Ocean. The camp dorms have 15 twin beds per side with accommodations for 224 campers. There is a common bathhouse for showers(individual stall showers) with the dorms close by. Camp runs Sunday to Thursday. It starts with an evening session Sunday and is over by noon on Thursday. Yes, 11 sessions and 11 meals!
More hockey for your drive!
Team Building
Our camp is designed for field hockey teams and individuals, grades 4 – 12. Working together on and off the field provides team-building experiences. The entire team gets to dorm together for the week!
Your off field experience by living with 14 other campers in your dorm is a built in bonding and memories to last a life time!
Registration is open!
Camp Name: Mid-Atlantic Field Hockey Camp
Camp Contact: Frannie Slabonik
Camp Location: Lewes, DE
Email: mafhc@dejazzd.com
Website: http://www.midatlanticfieldhockey.com
Available Ages: U10, U12, U14, U16, U19